Lee Boyd has been teaching LJKC classes since 1985. She's taught just about every class offered, with the exception of Conformation. Her usual repertoire includes Puppy Kindergarten and Pet Manners. Her current and former dogs (2 mixed-breeds and 7 Canaan Dogs) have earned conformation, obedience, rally, and agility titles, and 3 of her dogs have served as therapy dogs. In her other life, Lee is a biology professor with expertise in animal behavior.
Vickie has been training dogs since the late 1980's. She has experience with training puppies, as well as older dogs that need basic training. She is a breeder of Basenjis and has also bred a litter of Bouvier des Flandres. When she has a litter, she starts training her puppies in the very basics as early as 3 weeks old. After training the basics with her puppies, typically she and her husband then train specifically for competition titles. They have earned obedience , lure coursing, tracking and conformation titles with their dogs. Vickie has had four Basenjis with an American Kennel Club Companion Dog title (CD), four with an AKC Companion Dog Excellent title (CDX), over 20 Basenjis with American Sighthound Field Association Lure Coursing titles, 3 dogs with Tracking Titles, and over 20 AKC Conformation titles. She has handled client dogs in conformation for over 20 years and in the past she has taught many different types of classes both for the LJKC, and in private lessons. Vickie teaches Puppy Class, Pet Manners, Advanced level and Conformation classes.
Amber has always been fascinated by dogs. She has been studying books about the different breeds ever since she was a child and is especially interested in studying dog training. She has always tried to keep up to date on the different training tools and methods and has had great success training her own dogs. Amber has been a member of the LJKC since 2009 and has enjoyed assisting with dog events and training classes. Many of the people she has helped in her classes say they feel that their dog has really made great improvements and some have even gone on to continue training with hopes to compete with their dogs one day.
A lifelong dog lover, Bitsey became interested in formal dog training in 1977 when she acquired her first dog. A "free to good home" puppy, this German Shepherd mix showed remarkable talent when she took him to the LJKC Puppy Kindergarten class. The duo had so much fun that they kept taking classes, and Bitsey joined the club. Through club members she found out about dog training seminars given by prominent professional trainers. Ultimately, she ended up instructing her own class. Bitsey presently competes in agility, obedience and tracking with her two mixed-breed dogs. Both dogs are rescues from local shelters. In addition to their competition training, they are both Therapy Dogs registered with Pet Partners. They visit Lawrence Memorial Hospital and the Topeka Shawnee County Public Library on a regular basis.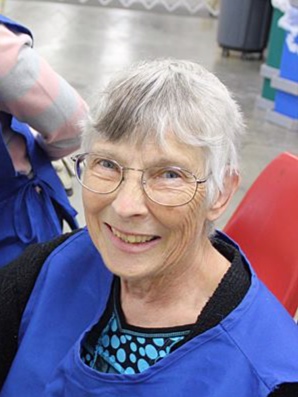 Carolyn has been involved in dog training for over 35 years. She has put multiple obedience titles on several generations of Shelties and now is working with a Papillion. She has also titled several different Shelties in agility. Carolyn has taught Novice, and Open obedience classes, and has helped various people with Utility training. At LJKC she has taught various beginning obedience classes (Pet Manners) and a Fun and Games class. Interestingly, although they played games that were fun with their dogs, by the time the class ended the dogs participating paid much closer attention to their handlers than did those taking competition-type classes. So, Carolyn now tries to keep that fun atmosphere in all classes she currently teaches. The dogs learn better and retain the material more readily.
Jane has been teaching classes for LJKC for over 35 years and has raised and trained her own dogs for over 40 years. She has put obedience titles on three different breeds and titled dogs in lure coursing, rally and conformation. Jane has attended several seminars on dog training and behavior and put this knowledge to test by fostering and finding homes for several rescue dogs.